If you are seeking a reliable, accurate and certified translation of official documents, then translation office Skrivanek is the right choice for you! We offer professional language services and have the expertise to provide certified translations in Berlin and many other German cities. Our experienced team of translators is certified to the standards set by local authorities, so your documents can be used for any official purpose. Thanks to our extensive network, we can guarantee fast and timely delivery of our quality services. Rest assured that with Skrivanek, you gain more than the best results when it comes to certified translations!
Skrivanek – where your work is in the best hands!
Do you need a sworn translation?
Sometimes you might need to translate a document, even a scanned one, from one language into another. A professional translator can help, by providing an accurate translation in the target language, whether it is English, German or Russian. Every certified translation by a reliable agency, such as Skrivanek Translation Agency, comes with a certification mark. This guarantees the quality of the services and confirms that the translation is truthful and valid. Furthermore, certified translations are suitable for submission to authorities, notaries and other certification offices. Do you need a certified translation of your documents? Let Skrivanek's highly qualified specialist translators guide you through the process.
Why a standard translation is not always enough
When you register your business or apply for a job, sign legal contracts or receive birth and education certificates, a standard translation is not always sufficient. In such cases, a certified translation, also called a "sworn" translation, is usually necessary and may even be mandatory. A more rigorous review process complicates the process, but Skrivanek can facilitate your certified translations with customized services into German or English, as well as from Spanish, Russian and multiple source and target languages. When translating legally binding documents, you need an accurate result that maintains the integrity of the document. When you receive a certified translation from Skrivanek, you can rest assured that everything is accurate, with the quality assured.
What is notarization?
This is a certification process that confirms the identity of the signatory as well as their signature on important documents. It is usually done to formalise legal agreements, confirm notarizations or certifications, and assist in international transactions. Documents that often need to be notarized include birth certificates, commercial registers, contracts, driving licences and other translations done by a professional specialist translator. Notarization of a document adds an extra layer of security to ensure the authenticity and integrity of the document. A notary must witness each person signing the document, and verify their identity by presenting a government-issued identification before officially signing the document.
Would you like a non-binding offer? We are waiting for your request!
1
Characteristics of a certified document
A certified document must meet certain criteria to be recognized as valid. The procedure usually starts with the submission of a copy or scan of the original document. Then an additional note must be attached, confirming that the copy is an exact reproduction of the original. Finally, the document must bear the signature and seal of a credible notary or an electronic translation with a qualified electronic signature in order to be considered valid. This ensures that the document has been certified as a reliable source and found to be genuine, guaranteeing its validity.
What is a sworn translation? – certified official translations
This is a special type of certified translation that requires the translator to take extra steps to confirm the accuracy of their work. This may include written confirmation that the document has been translated correctly, and it may also include checking references with an official institution for added assurance. Certified translations are used in many professional contexts, such as providing documents for immigration, opening a business abroad or translating documents for a court case. When accuracy is important, certified translations can be an excellent way to meet international communication standards.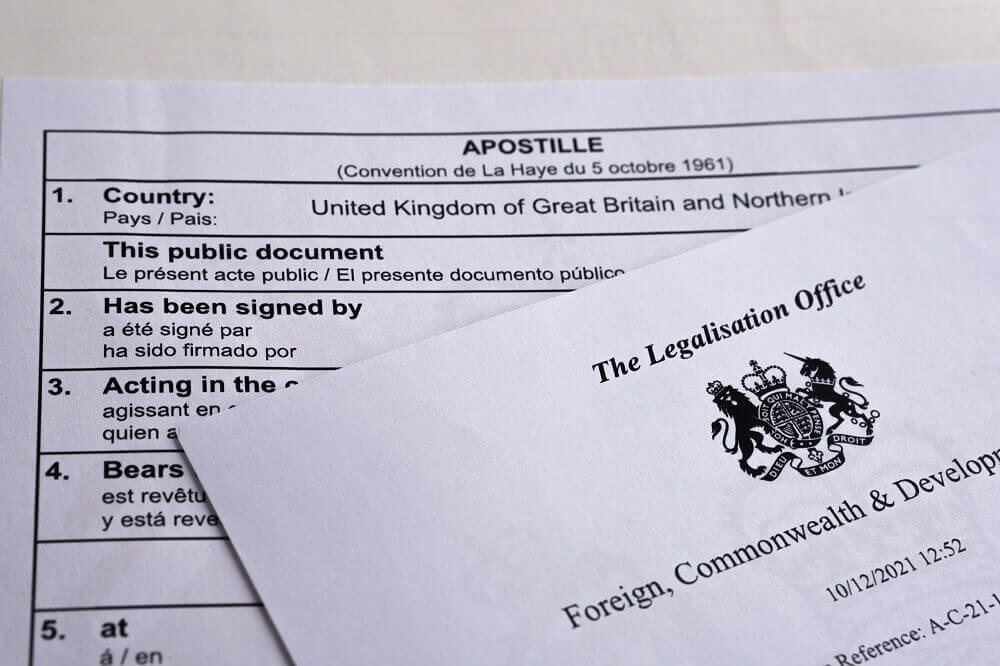 Who can provide sworn translations from one foreign language to another?
Not every translator is a sworn translator, as there are certain qualifications and requirements that must be met in order to become one. To become a sworn translator in Germany means passing the state examination and being sworn in by the court. Not only must they have an adequate command of the German language, but also have full legal capacity and prove that they are either a German citizen or a citizen of an EU or EFTA country. In addition, anyone wishing to become a sworn translator cannot have been convicted of an intentional crime or tax offence, or even a non-intentional crime against the security of the state. If all these strict criteria are met, then those who are authorized to certify their translations before the courts and authorities in Germany can provide high-quality translation services with impartiality and accuracy.
What is the difference between a sworn translator and an ordinary translator?
A sworn translator is a qualified professional who has been authorized by an official government body to translate important documents. They must adhere to a strict code of conduct and ethics, and be responsible for the consequences of any inaccuracies in their translations. Ordinary translators do not have such certification, so their translations are suitable for informal documents such as informal letters, e-mails, marketing texts, etc. The main difference lies primarily in the function that the translated document is ultimately intended to fulfill.
Ordinary translators and interpreters do not have to meet the same requirements, so while their services are cheaper, their quality is no different from that of a sworn translation. However, their texts have a different function, and are used in other fields that are no less popular.
Whether you need a sworn or a traditional translation ultimately depends on what type of document you have. In some cases, a sworn translation may be required, while in others, a standard translation will suffice. Speaking with a trusted Skrivanek translation service provider can help you determine which service is better suited to your specific project needs.
Typical documents that we certify for submission to government agencies:
Adoption papers

Apostille conventions
Certificates
Identity cards
Certificates
Diplomas
Company registers excerpts
Driving licenses
Court judgements
Expert opinions

Single certificates
Notary files
Patent applications
Divorce papers
Statutes
Deeds: birth certificates, marriage certificates, death certificates
Contracts and other business documents
Certificates: school leaving certificates, good conduct certificates
The certification of documents is usually a crucial part of the creation of an official document and can help to provide formal proof of the authenticity and validity of the documents submitted.
Sworn translations online
Skrivanek offers a state-of-the-art solution for all your certified translation needs. Our experts are ready to work in any language combination and guarantee fast turnaround times, without sacrificing accuracy or quality. We offer certified translations for a wide range of subjects, from legal documents and patents to personal translations like birth certificates. With our online certified translation service, you can rest assured that everything will be handled safely and securely, with all your documents in good hands.
With Skrivanek's certified online translations, you quickly and easily get the translation you need of any official document. Submitting your documents is easy – just upload a digital copy or scan if you have one, or take a photo from your smartphone or tablet if you do not. Next just wait for the certified translation to arrive by email – simple and securely. Provided with the translator's signature and stamp or qualified electronic signature, Skrivanek's certified translations are guaranteed to meet all your requirements for authenticity, accuracy and quality.
With certified translations online at Skrivanek, it is easy to get the translation you need.
WE OFFER CERTIFIED TRANSLATIONS IN THE FOLLOWING LANGUAGES:
WHAT OUR CUSTOMERS SAY ABOUT US
1
Vielen Dank für Ihre qualifizierten Übersetzungen und die hervorragende Kundenbetreuung.
Herzlichen Dank für die sehr gute und nette Zusammenarbeit!
Ich empfinde die Zusammenarbeit mit Skrivanek als höchst angenehm. Skrivanek reagiert immer vorbildlich!
Rasch, zuverlässig, kunden- und lösungsorientiert, sehr engagiert. Wir schätzen die Zusammenarbeit mit Skrivanek sehr.
Vielen Dank für die perfekte Unterstützung & tolle Zusammenarbeit in den vergangenen Jahren! Wir freuen uns auf die kommenden Jahre… weiter so!
Super schnelle Bearbeitung und immer bestens informiert!
Alles Bestens, entsprechend erhalten Sie von uns auch viele Aufträge!
NEARLY 30 YEARS OF EXPERIENCE!
We provide professional translations that meet the highest quality standards.
100+
language combinations in portfolio
100%
of our clients would recommend us