PROOFREADING IS MORE THAN JUST CHECKING FOR GRAMMATICAL CORRECTNESS
As a rule, we always offer translations with an additional proofreading by a second translator. We only waive this if the client expressly requests it. Before the translations are finally sent to the client, our project managers check the texts again for completeness and layout.
All of our translations are subject to an internal quality control process.
IN ADDITION, WE OFFER 3 TYPES OF TEXT CORRECTION:
LINGUISTIC PROOFREADING – KORREKTORAT
Proofreading involves a monolingual correction of spelling, grammar and punctuation by a second translator. After the technical translation and the initial correction by the translator, an additional monolingual correction is carried out by another technical translator. The finished translation is checked for spelling, grammar, denotate (conceptual content) and connotate (associative connotations) before the final check is carried out by our project manager.
The aim of such proofreading is to edit the text so that it sounds completely natural and fluent in the target language. This means that the text has to be checked by a native-speaker technical translator.
SEMANTIC PROOFREADING – LEKTORAT
Proofreading is the checking of a translation or an independent text by a linguist, where the source text and the target text are compared. Proofreaders are experts in the field of writing. The translation or foreign text is proofread bi-lingually by a specialist, i.e., the source text and translation are compared sentence by sentence and, if necessary, adapted. This procedure corresponds to the service specifications of ISO standard 17100:2015. The aim of this type of an independent check is to correct the text in terms of semantic, stylistic, content and terminological consistency.
contact us for a free quote!
EDITORIAL PRE-PRINT CORRECTION
This form of text correction is the final correction of documents that have already been completely laid out. Pre-print proofreading, also known as pre-print proofreading or typesetting proofreading, focuses mainly on correct formatting, hyphenation, special characters, correct display of all characters and graphics, and completeness of the layout of documentation, articles, brochures and proofs. This is mostly done on a view or print pdf. The aim of a final proofreading is to eliminate any deficiencies that arise after the text has been written.
SPECIAL FEATURES OF SCIENTIFIC TEXTS
Scientific texts must meet strict criteria in many respects. From precision, clarity and economy of language to compliance with the formal criteria.
Skrivanek's proofreaders and editors have a command of the technical language in numerous disciplines, such as medicine, law, economics and social sciences. This forms the basis for further work with texts like scientific articles, essays, abstracts, or monographs, all in more than 50 languages.
Scientific publications are often written in English. Now even though scientific English is primarily intended to be understood by the scientific community and is therefore quite well mastered by non-native speakers, weaknesses in English can have a direct impact on publication success. Skrivanek provides you with editors who can proofread your scientific articles and essays and thus guarantee your work the success it deserves.
The proofreading is of course carried out in accordance with our ISO certifications.
WE ARE ALWAYS HAPPY TO ADVISE YOU ON WHICH TYPE OF PROOFREADING IS BEST FOR YOUR PROJECT AND YOUR PURPOSES.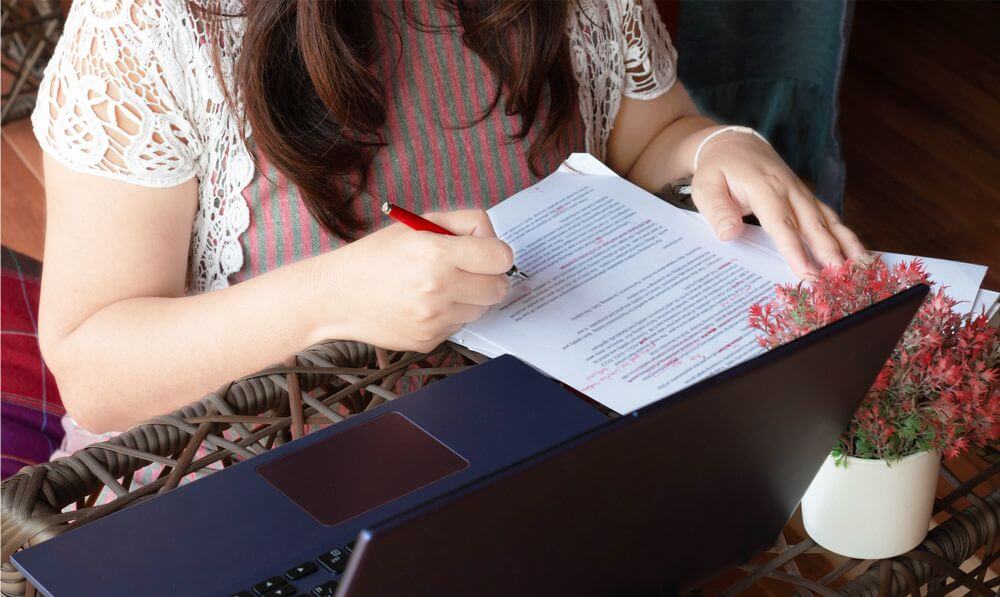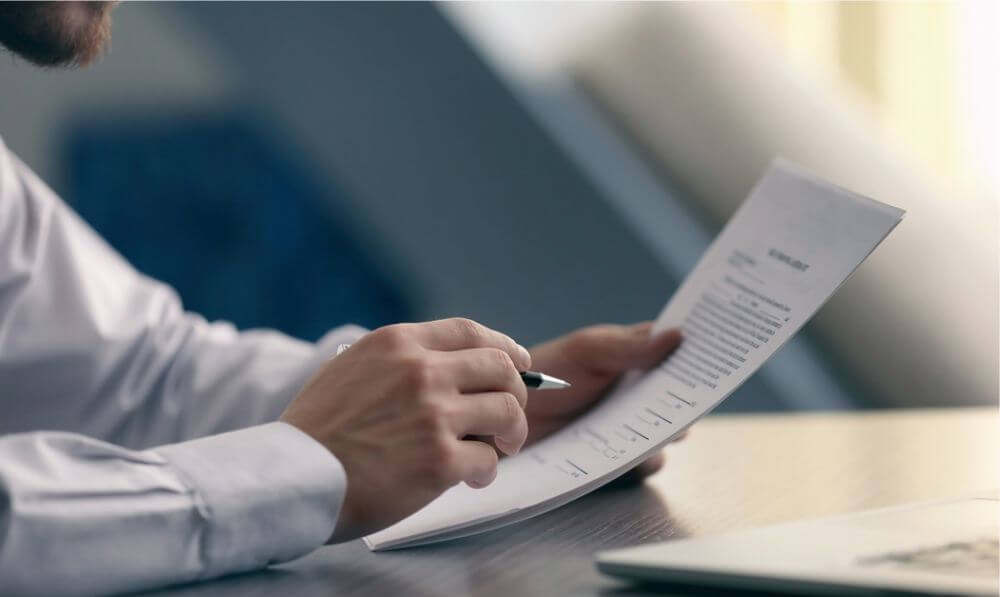 WHAT ROLE DOES PROOFREADING PLAY ON THE ROAD TO A PERFECT TRANSLATION?
Our working methodology for translations consists of the following steps:
1. RECEIVING THE DOCUMENTS FROM YOU
We receive your documents and specifications from you by e-mail, via the online enquiry form or a sharepoint. Together we discuss their notes, ideas and expectations, and then we can get started.
2. ANALYSIS OF THE ENQUIRY
We carefully analyze the enquiry in terms of the requirements and vocabulary. We also check whether a translation memory can be used.
3. SELECTION OF AN APPROPRIATE SPECIALIST TRANSLATOR
We select an appropriate translator according to certain criteria, such as experience in the desired subject area and with the respective target group.
4. PREPARATION OF AN OFFER
We send an individual offer by e-mail that meets the specifications.
5. COMPLETION OF THE TRANSLATION ACCORDING TO YOUR REQUIREMENTS
After your confirmation, we immediately start the translation with the utmost care and attention to all the requirements.
6. REVIEW PHASE – EDITING OR PROOFREADING
The texts are then carefully checked by a selected editor or proofreader. After this, we send you the finished translation.
7. YOU REVIEW YOUR TRANSLATION
Upon delivery of the finished translation, you receive a quality guarantee. We can then make any adjustments that you request, free of charge.
Editing and proofreading ensure the highest quality of our translations and give you our highest quality guarantee.
EDITING & PROOFREADING – WHAT ARE THE DIFFERENCES?
Skrivanek's proofreaders, correctors and editors correct and edit translations and publications in all languages and subject areas. If you want to avoid embarrassing typos and incorrect grammar, then use our professional language services. As part of the editing and proofreading process, your documents will be checked and adjusted by our experts. These quality processes help you achieve a positive impression and significantly increase the confidence of your clients and customers. Always consider using our external editing or proofreading services before publishing and printing your texts.
SOME OF THE SPECIFIC DIFFERENCES
Proofreading at Skrivanek includes the following services:
we check whether the text has been translated sensibly and stylistically correctly
we check the spelling, grammar and punctuation
we check the logic and typography
we revise your texts with the help of native-speaker proofreaders and experts in the field
Proofreading at Skrivanek includes the following services:
we check the spelling, grammar and punctuation
we revise your texts with the help of native-speaker proofreaders and experts in the field
LECTORATE
Our proofreaders are all native speakers and actively use their mother tongue in everyday life. They are experts when it comes to the practical side of the language. They have a precise understanding of the context as well as the stylistic subtleties. This is a great advantage because, thanks to their skills with their mother tongue, we can guarantee impeccable spelling and grammar as well as a contemporary linguistic style. They also have long and excellent expertise in your industry.
CORRECTION
During proofreading, our native speakers eliminate any linguistic errors. For you, this means an additional check by experts, helping to make your publication error-free. This procedure is also known as the 4-eyes principle.
CHOOSE QUALITY ASSURANCE – WE PUT THE FINISHING TOUCHES TO YOUR TEXT
Does your book, brochure, bachelor's or master's thesis or doctoral dissertation need proofreading or editing? Let our experts advise you on what level of proofreading is best for your requirements. Our editors and proofreaders are always available for you, so decide what your text needs and we will be happy to assist you in choosing the right kind of linguistic optimization for your text.
PROOFREADING OR EDITING FOR SPECIALIST TRANSLATIONS
CORRECTION
Your goal: a translated text without spelling and grammatical errors.
First and foremost, our experienced proofreaders correct the translations with regard to:
Completeness of the text
Execution of the text according to your specifications
Grammar
Punctuation
Spelling
LECTORATE
Your goal: a translated text free of grammatical and spelling errors, stylistically correct, easy to comprehend and adapted to the target group.
During the proofreading process, our experienced proofreaders thoroughly check the translations with regard to:
Completeness of the text
Execution according to your specifications
Grammar
Punctuation
Spelling
Writing style
Readability
Addressed and adapted to meet the target group's needs and expectations
Eliminate inconsistencies
PROOFREADING – FOR METICULOUS TEXTS
Our linguists not only correct grammar, punctuation and spelling in the translations. They also check the completeness of the texts according to your specifications. In addition, technical terms, product names and specific expressions are taken into account, so that your wish for an orderly text becomes achievable.
PROOFREADING – FOR OPTIMIZED TEXTS
Proofreading has a further step that includes all the above components. The grammatically corrected text is further optimized in terms of writing style and the adaptation of the content to the cultural context. Here our proofreaders focus on the target group, for whom the text is written.
PROOFREADING AND EDITING INCLUDE:
Technical translation
Glossary creation
Layout adaptation
Translation memory
ERROR-FREE TO SUCCESS
The deadline for your final paper, your bachelor's or master's thesis or dissertation, is approaching and you need to have it proofread? We can offer you our experience and professionalism, regardless of whether your text is more or less complex, making it ready for printing. Optimally edited text work is becoming increasingly important, with clear terms being used in the right context. Our language services also include express proofreading and express editing. All this, whether you are a student whose thesis requires a plagiarism check or you represent a company that needs their website texts revised.
PROOFREADING AND EDITING – FREQUENTLY ASKED QUESTIONS
WHAT CAN WE OFFER YOU IN THE WAY OF PROOFREADING?
While our proofreading mostly relates to translations prepared by Skrivanek, we also accept other people's translation work. While proofreading means checking and correcting translations with regard to grammar, spelling and punctuation, the aim includes not only grammatical correctness, but also the formal correctness of the content in the target language.
WHAT DO WE MEAN BY PROOFREADING?
Proofreading is particularly important for texts with emotionalizing or activating content, such as marketing texts. Our proofreaders compare the source text with the target text, correct the grammar and spelling and, most importantly, adapt the translation stylistically and linguistically to the cultural context. Our proofreaders are native speakers, meaning that they are able to convey the messages correctly for the target group. The focus here is on ensuring that the translations are not only error-free, but also absolutely understandable and authentic.
PROOFREADING OR EDITING - WHAT IS THE DIFFERENCE?
The main difference between proofreading and editing lies in the scope of the service. Proofreading involves working with the target text and optimising it with regard to grammatical and formal errors. Proofreading is primarily concerned with removing linguistic errors.
In proofreading, the source text plays an important role in addition to the translated text. Proofreaders compare the original text and the target text with regard to style, readability and target group. Consequently, editing can include proofreading, but does not have to.
PROOFREADING IS THE REVISION OF CONTENT AND STYLE.
To ensure the highest level of quality, both services are carried out according to the 4-eyes principle. This means that translation and proofreading are carried out by two different people. Proofreading primarily focuses on correct spelling and editing, while also taking care of the linguistic and stylistic optimization of a text.
SO WHICH SUITS MY TRANSLATION BETTER?
When choosing whether proofreading or editing is the appropriate additional choice, we can apply a general rule: the more technical terms that the original text contains, the better it is to choose one of the two correction levels for your translation. Both correction levels depend on the complexity of the source text.
According to this, proofreading is more suitable for texts where the information is more important than the style. One of the main goals is to identify and improve formal errors, to achieve a grammatically and orthographically correct translation of the original text.
In editing, the message is a decisive factor. If you want to leave an unforgettable impression and evoke positive emotions, such as in marketing, the stylistic correctness of the text should definitely be checked.
WHICH LANGUAGES NEED PROOFREADING OR EDITING?
German, English or Spanish…? – we proofread your translations for numerous European and non-European languages. For each translation order, you can ask for an additional correction level. When you place your order, you choose the appropriate correction level for the translation. Our standard offer always includes proofreading. We will be happy to provide you with an individual quote based on your requirements.
Is a free online proofreading tool sufficient for your translation project?
Proofreading is an essential step in the writing process. It focuses on the mechanical aspects of writing, such as grammar, spelling, and punctuation mistakes. While free online proofreading tools may seem like an easy solution, they often fall short. Most of these tools are not sophisticated enough to catch all the errors in a document, and they lack the human element of understanding tone and context. For important projects, such as reports, documents and essays, then accurate and error-free writing is crucial. This is where professional proofreading services come to the rescue, which can save writers valuable time and ensure error-free writing. Even the best writers need a professional proofreader.
When it comes to writing, there are common errors that everyone should be aware of and avoid making. Essential writing mistakes to look out for include punctuation, typographical and formatting errors. Ensuring that your piece is formatted correctly and free from typographical errors can go a long way to making sure your writing looks professional and helps ensure you are communicating effectively. In addition to this, sentence structure, stylistic inconsistencies, and word choice can also impact the quality of your work. These elements should be looked at closely during the editing process. It is important to remember that proofreading and copy editing are not the same thing. While proofreading focuses on catching typographical errors, copy editing takes a more comprehensive approach, looking at syntax, grammar, and overall clarity. By understanding the most common writing errors, and by investing time in editing and proofreading, you can produce written work that communicates effectively and has a certain professional polish.
In the world of writing, proofreading is an essential step to ensuring that your message is conveyed effectively. Even the smallest mistakes can distract your reader from the larger picture, ultimately hindering the impact of your writing. This is where proofreading comes in, to catch any errors and rectify them. Using proofreading marks can significantly aid you in this process. The symbols and abbreviations signify precisely what changes need to be made, helping to streamline the process further. While a proofreading service is undoubtedly beneficial, a free proofreading tool is also a great option, especially for those on a tight budget. It is important to note, though, that such tools cannot always catch everything, so it is still vital to know how to use correct punctuation marks. At the end of the day, however, whatever method you choose, proofreading is an integral component of the writing process.
WHAT OUR CUSTOMERS SAY ABOUT US
1
Vielen Dank für Ihre qualifizierten Übersetzungen und die hervorragende Kundenbetreuung.
Herzlichen Dank für die sehr gute und nette Zusammenarbeit!
Ich empfinde die Zusammenarbeit mit Skrivanek als höchst angenehm. Skrivanek reagiert immer vorbildlich!
Rasch, zuverlässig, kunden- und lösungsorientiert, sehr engagiert. Wir schätzen die Zusammenarbeit mit Skrivanek sehr.
Vielen Dank für die perfekte Unterstützung & tolle Zusammenarbeit in den vergangenen Jahren! Wir freuen uns auf die kommenden Jahre… weiter so!
Super schnelle Bearbeitung und immer bestens informiert!
Alles Bestens, entsprechend erhalten Sie von uns auch viele Aufträge!
NEARLY 30 YEARS OF EXPERIENCE!
We provide professional translations that meet the highest quality standards.
100+
language combinations in portfolio
100%
of our clients would recommend us