Translation Office Berlin
– THE WOR[L]D IS YOURS


We only work with experienced translators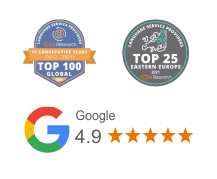 OUR OFFER IS TAILOR-MADE
We are here for you, whether you are a large international corporation or a small regional company. We are happy to help, advise and support you and look forward to working with you.
YOUR ADVANTAGES OF WORKING WITH US:
Experienced native translators and proofreaders
Specialist translations for companies from various industries and sectors
Fast and individual advice on your translation project
Certified according to ISO 9001, 14001, 18587, 27001 and 17100
Almost 30 years of translation experience
Outstanding price-performance ratio
Ask us for your individual quote:
By e-mail: info@skrivanek-gmbh.de
By phone: +030 726185654
With us, you can rely on professional advice and implementation of your translation projects.
Berlin translation agency for certified and specialised translations
Our team consists of professional, certified translators who are sworn in German. Each our translator uses American English or British English or any other language you prefer. Thanks to our experience, we are able to provide a fast and efficient assessment. The names of our translators can be easily found at various German district courts as well as at other consulates and embassies.
Sworn translators for English-German – You are on the safe side with us!
CONTACT US TODAY FOR A FREE QUOTE!
Our certifited translation services are our trademark
Our Berlin translation office is certified to ISO 9001, 14001, 18587, 27001 and 17100 standards. Our translation agency in Berlin offers certified translations and translation services in 80 languages. These certifications give our clients the best quality guarantee that their translations will be done with the highest professionalism in all areas of translation. Our quality is our trademark!
You can trust us!

OUR TRANSLATORS
Our team consists of specialists with many years of experience in various fields. Our specialist translators, interpreters and proofreaders form a strong network of translators and guarantee the highest quality of our language services. The specialists in our translation agency
have an excellent knowledge of foreign languages and a profound knowledge of their mother tongue
specialise in specific fields (e.g. marketing, medicine, technology, IT, law)
are experts in the use of CAT tools (SDL Trados, Across, MemoQ, Transit, Memsource, etc.)
WHAT OUR CUSTOMERS SAY ABOUT US
1
Vielen Dank für Ihre qualifizierten Übersetzungen und die hervorragende Kundenbetreuung.
Herzlichen Dank für die sehr gute und nette Zusammenarbeit!
Ich empfinde die Zusammenarbeit mit Skrivanek als höchst angenehm. Skrivanek reagiert immer vorbildlich!
Rasch, zuverlässig, kunden- und lösungsorientiert, sehr engagiert. Wir schätzen die Zusammenarbeit mit Skrivanek sehr.
Vielen Dank für die perfekte Unterstützung & tolle Zusammenarbeit in den vergangenen Jahren! Wir freuen uns auf die kommenden Jahre… weiter so!
Super schnelle Bearbeitung und immer bestens informiert!
Alles Bestens, entsprechend erhalten Sie von uns auch viele Aufträge!
NEARLY 30 YEARS OF EXPERIENCE!
We provide professional translations that meet the highest quality standards.
100+
language combinations in portfolio
100%
of our clients would recommend us
SKRIVANEK – MORE THAN JUST TRANSLATIONS…
Deutsch-Englisch and Englisch-Deutsch is one of the most sought-after language pairs, both for technical translations from various industries and for interpreting and other language services.
TRANSLATIONS OF TECHNICAL TEXTS
We cover more than 80 languages and specialist areas. Are you looking for a competent translation partner? Ask us for a quote for your next project. We only work with professional translators who specialise in specific subject areas.
LOCALISATIONS
International communication is about more than just words. Combine your knowledge of the culture, laws and preferences of your target country with our localisation expertise. Localisation is the adaptation of a product to a specific target group in a country.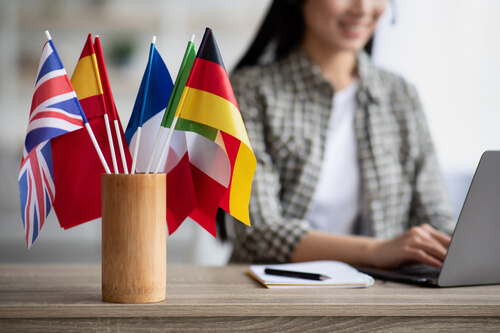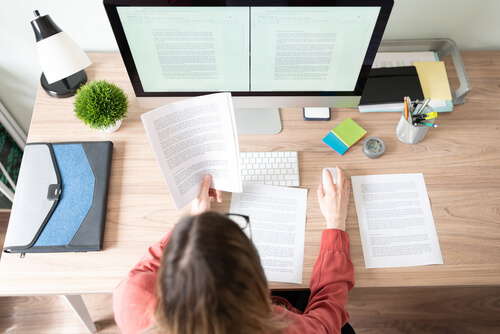 INTERPRETING
On-site or online interpreting in over 80 languages and various language combinations. First-class interpreting wherever and whenever you need it. Just tell us the date of your event and we'll take care of everything else.
MORE SERVICES for our customers
If you need graphics, document preparation or even print output, we'll be happy to take care of it for you. Skrivanek is a global full-service provider. Our graphics studio offers graphics editing in numerous languages and all formats.
OUR WAY TO THE PERFECT TRANSLATION

Specialist translations step by step
Your source text is checked for content, style and complexity by source language specialists. This will identify the field or specialism involved and which features of the text require particular care. This initial analysis is thorough, meaningful and helps to optimally select the translation team and the available reference materials.
The text is translated by a responsible translator. They must be bilingual professionals with a university degree in translation or at least 5 years of translation experience, knowledgeable in the relevant field and certified by the Skrivanek Translator Certification Program.
In the next step, the proofreader, equally qualified linguists with the same experience and expertise, carefully checks the translation and compares it to the source text for errors, stylistic inconsistencies, correct terminology, etc.
A quality assurance specialist who is a native speaker of the target language then checks the text for any inconsistencies, missing parts of sentences, spelling errors, etc. QA tools are used to perform an automatic double check.
Our satisfied customers are our flagship