Are You looking for translator in Germany?


Skrivanek – your certified translation agency in Berlin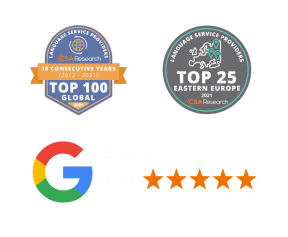 Welcome to our translation agency in Berlin!
Our qualified team of translators is here for you online, while our modern offices are open right in the heart of Berlin, Monday to Friday, from 9.00 to 18.00.
Contact us:
You can rely on our professional advice and the satisfactory completion of your translation projects.
Translation Service Skrivanek GmbH | Schumannstraße 3 | 10117 Berlin
CONTACT US TODAY FOR A FREE QUOTE!
CONTACT US TODAY FOR A FREE QUOTE!
What services do you offer?
We primarily specialize in classic, certified and machine translations, proofreading and editing, consecutive and simultaneous interpreting, website and software localization, transcreation, DTP and graphic design, subtitling and voiceovers.
What target languages do you translate into?
We deal with all European and many non-European languages, including: Albanian, Arabic, Armenian, Azerbaijani, Belarusian, Bosnian, Bulgarian, Catalan, Chinese, Croatian, Czech, Danish, Dutch, English, Estonian, Finnish, Flemish, French, Georgian, German, Greek, Hebrew, Hindi, Hungarian, Icelandic, Indonesian, Italian, Japanese, Kashubian, Kazakh, Korean, Latin, Latvian, Lithuanian, Macedonian, Maltese, Moldavian, Mongolian, Montenegrin, Norwegian, Persian, Polish, Portuguese, Romanian, Russian, Serbian, Slovak, Slovenian, Spanish, Swedish, Turkish, Ukrainian, Uzbek, Vietnamese and Yiddish.
These are the main languages we deal with, but if you cannot find the language you need here then please contact us, so we can prepare a quote especially for you.
What sectors do you specialize in?
Our areas of expertise include: Technical Industry, Medicine and Pharmacy, Manufacturing Industry, Marketing and Advertising, Trade and Services, Tourism and Leisure, Government Administration, Insurance, IT, Finance and Banking, Construction and Engineering, Human Resources and Payroll (HR), Law and Justice, Agriculture and Forestry, Fashion and Art.
What kind of documents do you translate?
We typically provide translations of all texts and documents in all common formats for PC or Apple computers: company publications, contracts, terms and conditions and tender specifications, instructions, marketing materials, financial reports, descriptions of clinical studies, laboratory test results, medical reports and much more. If you need a certified translation of your official documents, like a birth or marriage certificate, they can be translated by our certified sworn translators.
How much does a translation cost?
The costs vary, depending on the language, deadline, file format, type of document, subject area as well as additional services such as graphic work. Therefore, we calculate the costs of each order individually.
How long does an order take?
We determine the deadline before the work on the text begins. As a rule, we can translate and proofread about 2000 words per working day. However, express orders are also possible on individually agreed terms. For large projects, we always try to adapt so we can better meet your expectations. Depending on what processes you require and the deadline, we can assemble a team of translators, graphic artists and proofreaders to complete the job. This allows us to work faster.
We are not here to deliver translation services solely in Berlin, but throughout Europe!

BUSINESS IN BERLIN
With around 3.7 million inhabitants in the city itself and another 6 million in the surrounding areas, Berlin is Germany's largest city. The history of the last century has had a significant impact on the economy and has greatly shaped its importance within the country. Many large companies were originally founded in Berlin, including Siemens, Lufthansa, Deutsche Bank and EDEKA.
After the fall of the Berlin Wall, Berlin developed into a service city that has experienced an unparalleled rush in the tourism market, especially in recent years. The city is one of the most dynamic economic regions in the heart of Europe. It is particularly attractive for young companies and start-ups from the creative and technology sectors, and in recent years it has developed into the fastest-growing start-up center in Germany.
WHAT LANGUAGES CAN YOU STUDY HERE?
Berlin is one of the most popular places to study in the world: it was ranked 7th in the "QS World University Ranking" for 2019.
There are four state universities to choose from: Freie Universität Berlin, Humboldt-Universität zu Berlin, Technische Universität Berlin and Universität der Künste Berlin, where you can study many different subjects. In addition to English Philology, students can also choose Dutch Philology, Romance Philology, Classical Philology, Arabic Philology and even Sinology, among many others.
Berlin is an attractive city if you want to become a translator or interpreter. The range of languages offered by the four state universities is very rich and gives future graduates a huge opportunity to find a job in the field of language services.
The international character and cultural diversity have made Berlin one of the most attractive cities in the world – not only for students, but also scientists, business people and everyone else who wants to become part of a multicultural society.
Studying in Berlin is worth it!
WHAT IS CHARACTERISTIC OF THE CITY?
Berlin is a cosmopolitan city with a flair that attracts ever more people, and is considered one of the most popular destinations in Europe. Berlin's main attractions for national and international tourists include the nightlife, festivals, events, as well as many important cultural institutions. Numerous theatre stages, museums, parks and other sights very much characterize Berlin's unique culture. It is very easy to see modern German multicultural society here, as there is a broad diversity of cultures, with everyone living together within the city. Multiculturalism is a daily norm.
SIGHTS IN BERLIN
Berlin is rich in impressive landmarks, whether they are distinctive buildings or monuments that make the city unmistakable. Here are the top 10 most beautiful landmarks that people all over the world associate with the German capital: Berlin TV Tower, Brandenburg Gate, Reichstag Building, Berlin Cathedral, Checkpoint Charlie, East Side Gallery, Victory Column, Kaiser Wilhelm Memorial Church, New Synagogue, Molecule Man, museums and other cultural institutions.
The cultural institutions in Berlin are all gathering points where cultural diversity is concentrated. Different topics are dealt with, with hundreds of thousands of emigrants stopping here and bringing their art.
Berlin's diverse cultural life is at a high world level and the extraordinary density of cultural life characterizes every part of this city. It is the capital of cultures and always hot for unusual, quirky, provocative, creative and colorful productions.
A CITY THAT NEVER SLEEPS
Popular museums in the capital include the Museum Island with the Pergamon Museum, the Old National Gallery, the New and Old Museum and the Bode Museum, the New National Gallery, Charlottenburg Palace, the flora of our earth in the Botanical Museum, the Märkisches Museum, collections in the fields of zoology, paleontology and mineralogy in the Natural History Museum, glimpses of life in the divided city in the GDR Museum, the technology of mankind in the German Technology Museum and the Underground Museum with lots of technology to touch at the Olympic Stadium.
HOW CAN THE SKRIVANEK TEAM HELP YOU OUT?
Translations for companies are the prime focus of our services. Our translators, interpreters and proofreaders deal with all types of translations – whether it is written or certified translations, along with simultaneous and consecutive interpreting. Thanks to our many professionals, we can translate and check documents and data from CMS systems in various fields – technical, medical, IT, legal, administrative, commercial and much more. On the local market, many well-known brands who appreciate working with us.
Our almost 30 years of experience in the industry and especially the commitment of our employees guarantee the high quality of our services, short delivery times and excellent value for money.
THE MOST FREQUENTLY REQUESTED SERVICES
Skrivanek Translation Agency offers professional translations of texts into German as well as translations from German into many European and non-European languages, such as Arabic, Bulgarian, Chinese, Faroese, Hebrew, Portuguese, Ukrainian, Italian and many others.
However, our translators most frequently work on technical translations in English. We translate German-English, English-German or any other language combination, such as French-German, Spanish-German, Arabic-German, German-Polish and much more. Our colleagues are experienced technical translators and proofreaders who specialize in translations from a broad range of fields. Our agency offers translations in simple forms as well as certified work by sworn translators.
Our services are aimed at clients from all sectors, including marketing, technology, medicine, IT, law, tourism and many others. We translate different types of texts, such as technical documentation, websites and webshops, software, certificates, deeds, contracts, court and medical documents, business correspondence, flyers, catalogues or brochures, but also very sensitive and confidential texts.
We not only pay attention to the correctness of each translation, but also to the effectiveness of the text, the appropriate style as well as the adaptation to the cultural context, in terms of the language itself and the words, phrases and idioms used, as well as with regard to regional characteristics in Germany or Great Britain. Translations from English into German and German into English are some of the most frequent language combinations carried out by our agency.
WHERE ARE WE LOCATED?
Skrivanek translation agency has been located in the heart of Berlin since the summer of 2007: at Schumannstraße 3, less than ten minutes' walk from the famous Reichstag building. Astrid Hager is the managing director, and we offer professional translation, interpreting, localization and DTP services. Our clients include companies with international potential that require professional technical translations, as well as embassies and consulates, public authorities, lawyers, colleges and universities.
SKRIVANEK IS YOUR PROFESSIONAL TRANSLATION AGENCY!
SKRIVANEK is your local professional translation agency – we are located in Berlin (head office), Frankfurt, Cologne, Hamburg, Dresden, Munich and, of course, online. With SKRIVANEK, you have an experienced team of contacts who can answer all your questions. SKRIVANEK offers technologically advanced translation solutions for all your projects: from technical translation to video translation. No matter where your sights are set, SKRIVANEK is your reliable partner for a fast and cost-effective feasible solution.
WE SPECIALIZE IN THE FOLLOWING LANGUAGES:
Albanian
Arabic
Armenian
Belarusian
Bengali
Bosnian
Bulgarian
Chinese
Croatian
Czech
Danish
Dari
Dutch
English
Estonian
Farsi
Finnish
Flemish
French
Georgian
German
Greek
Hebrew
Hindi
Hungarian
Italian
Japanese
Kazakh
Korean
Latvian
Lithuanian
Macedonian
Moldovan
Mongolian
Montenegrin
Norwegian
Pashto
Persian
Polish
Portuguese
Romanian
Russian
Swedish
Serbian
Slovak
Slovenian
Spanish
Thai
Tigrinya
Turkish
Turkmen
Ukrainian
Urdu
Uzbek
Vietnamese