Are you looking for a translator – Polish-German or German-Polish? Or another language specialist? – You can find them all with us

OUR TRANSLATIONS AND INTERPRETATIONS ARE ISO-CERTIFIED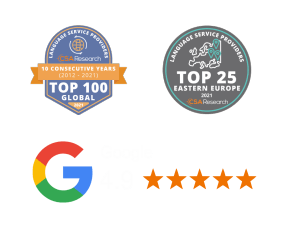 Are you looking for a translator – Polish-German or German-Polish? Or another language specialist? – You can find them all with us

OUR TRANSLATIONS AND INTERPRETATIONS ARE ISO-CERTIFIED
OUR GERMAN-POLISH, POLISH-GERMAN TRANSLATORS AND OTHER LANGUAGE SPECIALISTS ARE ready for your tasks
We offer translations between Polish and German. Our translators are native speakers of the source language and have high levels of expertise in both the source and target languages, which means you can rest assured that your projects will be completed with precision and accuracy. Our Polish translators are experts in their respective fields, and if you are looking for language specialists in different language combinations, then we can offer you our support.
We work with native-speaker translators who implement their translation projects at the highest level of quality using modern tools and the highest level of linguistic competences. As a translation agency, we also offer other language services, such as written translations, proofreading, localization, interpreting and DTP services, all to the highest levels to help you expand your businesses and communicate effectively around the world.
Our services are aimed at companies in all sectors, including such specialist sectors as general industry, engineering, medical, pharmaceutical, legal and many others. We translate contracts from German, as well as company documents, invoices, catalogues, advertising slogans, reports, contracts, commercial correspondence, legal documents, powers of attorney, forms, and confidential text documents.
OUR OFFER IS TAILOR-MADE
Skrivanek has developed a unique offering tailored to the individual needs of our clients. Our experienced team of linguists, project managers and consultants are committed to meeting your linguistic needs and ensuring the smooth running of your projects, whatever their size and complexity. Skrivanek is also committed to providing outstanding customer service throughout each project and beyond. You can count on Skrivanek to deliver a high-quality experience and results that are tailored specifically to your needs.
OUR GERMAN-POLISH, POLISH-GERMAN TRANSLATORS AND OTHER LANGUAGE SPECIALISTS ARE ready for your tasks
FOR ALMOST 30 YEARS, LARGE AND SMALL COMPANIES HAVE ENTRUSTED US WITH DELIVERING QUALITY WORK TAILORED TO THEIR NEEDS.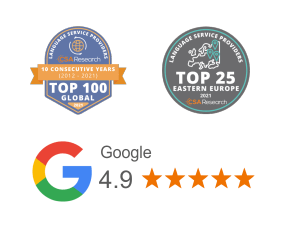 Our German-Polish translators pay close attention to not just the correctness of the translation, but also to the effectiveness of the text, the appropriate style as well as the adaptation to the cultural context, both in terms of the language itself and the words, phrases and expressions used, as well as with regard to the specific national features found, for example, in Germany or in Poland.
English-German and Polish-German translations are among the most common source and target language combinations carried out by our translation agency.
ONLINE DICTIONARIES INSTEAD OF A PRINTED DICTIONARY?
Why online dictionaries are not always so good.
Some people use an online dictionary, especially Google Translate, instead of a Polish-German dictionary to check different words. If they are looking for a word, or if they want to achieve the highest possible quality in their translated texts, it is necessary to formulate the text correctly in terms of writing and grammar. Slang expressions as well as a source text that is not written in script, are generally a problem for online translators.
ONLINE POLISH-GERMAN DICTIONARIES
Using a Polish dictionary or German-Polish/Polish-German dictionary is better because we minimize the risk of getting something poorly translated and can also avoid other potential mistakes. There is also an online Polish-German dictionary where you can search different words, phrases or terms even when you are on the road or on holiday.
Some online translation tools are inaccurate and also make various mistakes. The number of characters or words maybe limited, they translate different phrases incorrectly, they have issues with different words and they can collect your data.
A real dictionary also offers different functions. When can click on the word you are looking for, they may offer relevant synonyms, for example. Searching for relevant words is also not that difficult, as in the German-Polish dictionary you can find suggestions for translations. They contain all the words, phrases and expressions you need, while also present the contents of the words. If you do not know which dictionary to choose, you can also check its rating on the Internet.
POLISH-GERMAN TRANSLATIONS ARE ONE OF OUR SPECIALTIES!
Efficiency is at the heart of our translations. The services we provide are transparent, of reliable quality and satisfy even the most demanding clients. We have high expectations and are proud to be able to guarantee the quality of our brand. Continuous improvement has always been one of our basic principles. We are guided by ambition and customer orientation, we enjoy our work and we translate this into results that you will like.
Our work is our calling card, combining passion, an approach that seeks to meet the needs of the demanding times in which we live, and a vocation to deliver excellence, regardless of the complexity of the assignment. Our team includes highly motivated language experts, proofreaders (native German/Polish/English speakers), project managers and DTP specialists, all interested in constantly improving their performance. This is a guarantee for efficiency and measurable business benefits.
We like to keep secrets. Timeless values such as trust are indispensable, which is why we give you the guarantee that the documents you entrust to our translation agency will be handled with the utmost care. This is why information security is so important to us, especially ISO 27001. Confidential information is the norm today, and we are aware of its importance in all projects. We use the best IT tools for our networks and systems to ensure the necessary management of your data.
POLISH-GERMAN TRANSLATIONS
GERMAN-POLISH BUSINESS TRANSLATIONS
German-Polish translations for the business world are at the heart of our translation agency. As we are always aware that business success goes hand in hand with responsiveness and the expansion of business opportunities, the services we offer you meet your needs and expectations. In other words, our services are always perfectly tailored to your business model.
GERMAN-POLISH WEBSITE TRANSLATIONS
Thanks to the translation and localization services we provide for your websites and entries, as well as our multimedia app, we can help you to reach business partners all over the world and make your products accessible to users not only in Poland, but throughout the entire global market. We can translate static or dynamic HTML, SGML, XML, CGI, PHP, ASP or Flash websites for you and, if desired, adapt their content to the local community and conventions.
TRANSLATIONS INTO AND FROM POLISH
Below you can find the most frequently requested translations into and from Polish:
Standard and business translations into and from Polish; express translations; certified translations; proofreading; localization; translation of websites into Polish; preparation of DTP graphic documents; and interpreting into and from Polish – simultaneous and consecutive. We use the most modern CAT equipment.