Do you need translations…? – professional translation services for customer satisfaction, only at Skrivanek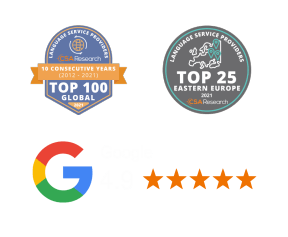 We work with state-certified native-speaker translators who carry out translation projects at the highest levels using modern tools, a great deal of experience and their linguistic competence.
Skrivanek provides professional translation services to ensure your satisfaction. Our expert translators ensure professional and certified translations with a personal touch in many languages. We understand that when you require professional translation there is more at stake than simply the price, which is why we strive to provide the best customer support and offer excellent localized services. To facilitate the process further, we use a translation memory to preserve the accuracy of translations and maintain consistency across the documents, including marriage certificates. All of this comes together to produce professional translations that foster customer satisfaction.
Skrivanek Translation Agency offers a range of services, such as audio-visual translation projects, the adaptation of graphics, the preparation of your translation for printing and much more.
Almost 30 years of experience in Europe, Asia and the USA.
We have an international network of branches, and select the best translator locally for you.
Thanks to our worldwide network, we can also offer rare language combinations or specialist fields.
Our international orientation allows us the highest flexibility and availability, as well as short delivery times.
1 contact person in Berlin to coordinate all your projects.
Translation is a matter of trust – our individual customer care is one way we can earn yours.
Our translators and linguists are continuously evaluated and trained.
Our ISO certifications guarantee you the highest quality and transparency in project handling.
Our use and further development of state-of-the-art technologies.
PROFESSIONAL TRANSLATIONS ARE IMPORTANT:
1
ISO-COMPLIANT TRANSLATION
Skrivanek, as a professional translation agency, is ISO-certified. For our customers, this means that we guarantee high-quality and professional translations. That means you can trust us and leave your translation projects with us without hesitation.

ANY QUESTIONS? CONTACT US THROUGH our order form
1
Our customer service always enjoys finding a solution that fits your translation needs.
ANY QUESTIONS? CONTACT US THROUGH our order form
1
ALL FILE FORMATS
We provide professional translations for websites, mobile apps or catalogues. We produce many translations from .doc, .xls and .ppt formats, as well as .html, .xml, .xliff, .idml, iOS strings, Android xml, PO/POT and much more. From a technical point of view, we are prepared for any task.
OUR WAY TO THE PERFECT TRANSLATION
1

Your source text is checked by source language experts for content, style and complexity. During this process, it is determined which field or subject area is involved, and what features of the text require special care. This initial analysis is thorough, meaningful and helps to optimally select the translation team and the available reference materials.
The text is translated by a responsible translator. They must be a bilingual professional with a university degree in translation or at least 5 years of translation experience, knowledgeable in the relevant field and certified by the Skrivanek Translator Certification Program.
In the next step, the proofreader, an experienced linguist with relevant experience and expertise, carefully checks the translation for errors, stylistic inconsistencies, correct terminology, etc.
A quality assurance specialist, who is also a native speaker of the target language, then checks the text for any inconsistencies, missing parts of sentences, spelling errors, etc. QA tools are also used to perform an automatic double check.
We translate in over 100 language combinations
Translations into one of the most important languages in the world, the official language in numerous countries.
English translations

Translations into one of the most important languages in the world.
French translations

Translations into a language that is important for both Europe and Latin America.
Spanish translations
WE SPECIALIZE IN THE FOLLOWING LANGUAGES:
Albanian
Arabic
Armenian
Belarusian
Bengali
Bosnian
Bulgarian
Chinese
Croatian
Czech
Danish
Dari
Dutch
English
Estonian
Farsi
Finnish
Flemish
French
Georgian
German
Greek
Hebrew
Hindi
Hungarian
Italian
Japanese
Kazakh
Korean
Latvian
Lithuanian
Macedonian
Moldovan
Slovak
Slovenian
Spanish
Thai
Tigrinya
Turkish
Turkmen
Ukrainian
Urdu
Uzbek
Vietnamese
NEARLY 30 YEARS OF EXPERIENCE!
We provide professional translations that meet the highest quality standards.
6+
MILLION TRANSLATED WORDS IN 2017
100%
OF OUR CLIENTS WOULD RECOMMEND US
33%
OF OUR CLIENTS ORDER EXCLUSIVELY FROM US
WHAT OUR CUSTOMERS HAVE TO SAY ABOUT US
1
Vielen Dank für Ihre qualifizierten Übersetzungen und die hervorragende Kundenbetreuung.
Herzlichen Dank für die sehr gute und nette Zusammenarbeit!
Ich empfinde die Zusammenarbeit mit Skrivanek als höchst angenehm. Skrivanek reagiert immer vorbildlich!
Rasch, zuverlässig, kunden- und lösungsorientiert, sehr engagiert. Wir schätzen die Zusammenarbeit mit Skrivanek sehr.
Vielen Dank für die perfekte Unterstützung & tolle Zusammenarbeit in den vergangenen Jahren! Wir freuen uns auf die kommenden Jahre… weiter so!
Super schnelle Bearbeitung und immer bestens informiert!
Alles Bestens, entsprechend erhalten Sie von uns auch viele Aufträge!