Are you planning an international conference? Do you work at big events that require the presence of interpreters working with multiple languages? Simultaneous interpreting can make the organisation process so much easier. Select our language service when you need to translate for multinational attendees.
Contact us today to learn more about how we perform our simultaneous interpretation services. We are always happy to discuss how we can help you with the organisation of your event. Our common goal is effective communication.
WHAT IS SIMULTANEOUS INTERPRETING?
In simultaneous interpretation, the interpreters translate the speaker's words in real time, without any significant pauses. They translate the previous sentence almost at the same time that the next one is being spoken. The simultaneous interpreters, or oral translators, work in soundproof booths with headphones and microphones to avoid any external distractions.
This method is also called synchronous interpreting, booth interpreting and conference interpreting. It demands exceptional linguistic skills, deep concentration, and the ability to think and translate almost instantly.
Simultaneous interpretation techniques are used in a variety of situations, including conferences, big business meetings, court hearings and more. It is the most common type of interpreting used at official international events.
Since simultaneous interpreting is a demanding activity, the interpreters usually work in teams of two, taking turns interpreting for 20 to 30 minutes. This helps them to recover quickly and avoid mental fatigue. As a result, the interpreters can translate efficiently, without making mistakes.
WHAT IS WHISPERED INTERPRETING?
Whispered interpreting, also known as "chuchotage" in French, is a variation of simultaneous interpretation. Instead of using headphones and microphones in a soundproof booth, the interpreter stands next to a small target audience. He whispers the translation in their own language directly into their ears as the speaker continues speaking.
Whispered interpreting is useful in settings where only a few people do not understand the source language. Common scenarios include business meetings, bilateral discussions, or site visits, whenever installing a booth is impractical. However, due to the strain it puts on the interpreter's voice, it is best suited for shorter events.
ANY QUESTIONS? CONTACT US THROUGH OUR ORDER FORM
WHEN IS SIMULTANEOUS INTERPRETING USED?
Simultaneous interpreting is employed when there is a need for instant translation without interrupting the speaker, or when multiple languages are being spoken. It is favoured when speed and preserving the natural flow of the meeting are crucial.
The situations that require simultaneous translation include:
Multilingual conferences and congresses, such as the United Nations assemblies or large-scale global summits, where representatives from different countries communicate in more than one language.
Television broadcasts, for events like global award ceremonies or international competitions where the audience speaks multiple languages.
Educational seminars and lectures, where expert speakers address an international audience, so they can reach everyone without language barriers.
Inter-governmental meetings, including high-level diplomatic discussions, where swift decision-making is key.
Cultural festivals during which the performances, speeches, or presentations are given in various languages.
In the above situations, people from different countries need to communicate with each other to achieve a common goal. Without an interpreter, it would not be possible.
Simultaneous interpreting is one of the most demanding methods. It requires the professional to listen to sentences in one language, understand what is being said, and then translate the meaning into another language, almost at the same time.
EQUIPMENT USED FOR SIMULTANEOUS INTERPRETATION
The most common equipment for simultaneous interpretation is the interpreting booth. It is a soundproof room in which the simultaneous interpreter sits, listening to the speaker through conference headsets. After listening, the interpreter translates into a microphone so that each attendee can hear the interpretation in his language through the earphones.
Some booths have video monitors so that the simultaneous interpreter can see the speaker and the visual aids used. This can be helpful for translation quality, but it is not essential.
In some cases, simultaneous interpretation can be done without a booth. However, it is only possible if the event is small and there is little background noise. The interpreter listens to the speaker through headphones and speaks the foreign language using a handheld microphone. This method is less common as it increases the risk of losing concentration and introducing errors.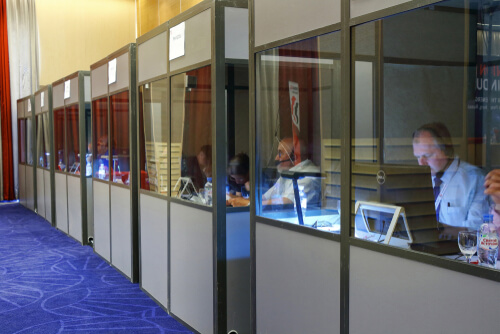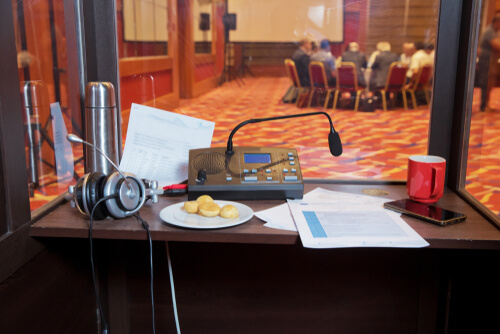 HOW DO GOOD SIMULTANEOUS INTERPRETERS PREPARE FOR AN EVENT?
Preparation is essential for the success of any translation task, including the simultaneous interpretation. Since the interpreter translates at the same time when listening to the next part of the speech, he must become very familiar with the meeting's subject beforehand.
When you assign a verbal translation task, we always ask you for details about the meeting and the reference material. We do so to provide the most accurate service. An interpreter working during a European Union event needs to be familiar with the community's procedures. A translator for a petrochemical conference must know the technical or medical terminology.
To prepare for an assignment, the interpreter reads through all available materials, such as the agenda, presentations, and speeches. He researches unknown terms or concepts and arrives fully prepared for the event.
In some cases, we facilitate an early meeting with the interpreter, so you can discuss the specific needs and requirements.
THE CHALLENGES OF SIMULTANEOUS TRANSLATION
Simultaneous interpreting is one of the most difficult types of translation because the interpreter has to listen and speak at the same time. This requires a high level of concentration and attention. Another challenge is that the interpreter often has to interpret difficult texts and does so in a very short time. After all, there is no time for the interpreter to look up unknown words or concepts.
The interpreter must have an exceptional understanding of the source and target languages. They must be able to think quickly and to accurately convey the meaning in the foreign or native language. Listening to the speaker also plays a crucial role. The simultaneous interpreters must almost instantly be able to reproduce the meaning in the target language, considering the context, body language and tone of voice. This is not an easy task and requires a lot of practice.
WHY SHOULD I CHOOSE SIMULTANEOUS INTERPRETING?
Simultaneous interpretation has many advantages:
People who speak different languages can communicate with each other naturally, almost at the same time.
It allows for a fluent conversation, as there are no breaks while waiting for a translated speech.
It makes events more interactive, as each present person is on the same page at the same time.
WHAT ARE THE DISADVANTAGES OF SIMULTANEOUS INTERPRETATIONS?
Due to its challenging nature, simultaneous interpreting also has some disadvantages:
Since it is a very demanding task for the interpreter, it can lead to unwanted mistakes.
It is not always possible to find an interpreter with a profound understanding of the subject.
It can be an expensive solution as it requires special equipment, like soundproof booths, headphones for the professional and earphones for each attendee. Moreover, the interpreters should work in pairs.
DO YOU NEED A GOOD SIMULTANEOUS INTERPRETER?
Who is going to attend your event? If the answer is "people with different language backgrounds", then you will certainly need a simultaneous interpreter. Their presence will make your event more inclusive and accessible to all. Make sure you choose an interpreter who is experienced and familiar with the subject of the event.
Contact us today to learn more about how we perform simultaneous interpretation and how it can help you achieve success.
THE DIFFERENCES BETWEEN SIMULTANEOUS AND CONSECUTIVE INTERPRETERS
In simultaneous interpretation, the interpreter starts speaking at the same time as the speaker, whereas the consecutive interpreter does not start until the speaker has finished a complete thought. The two methods differ in how much time the interpreter has to prepare.
In simultaneous interpreting, the interpreter has only fractions of a second to understand and interpret what is said. In consecutive interpretation, they have several minutes to prepare themselves.
Which method you select depends on many factors, such as the type of event, the size of the audience and the languages used. In general, simultaneous interpretation is used for large events where real-time translation is required, such as conferences or live broadcasts. Consecutive interpreting is used for smaller events where only one or two languages are used. It is worth mentioning that some interpreters are trained in both language services, while others specialise in just one.
HOW TO SELECT THE RIGHT SIMULTANEOUS INTERPRETER
Finding the ideal simultaneous interpreter is the first step toward effective communication.
Look for an interpreter with specialised knowledge in your field.
Confirm their academic credentials, professional certifications, and affiliations with recognised interpreting organisations.
Review their past work experience to ensure they have handled similar meetings.
Seek feedback or references from their past clients.
Double check their availability to ensure they match your event's schedule.
Arrange a short initial conversation to assess their language skills, adaptability, and soft skills.
Do you feel overwhelmed by all this? Rest assured, as we have already done the search for you. Reach out, and we will connect you with the best-suited interpreter for your event.
WHAT OUR CUSTOMERS SAY ABOUT US
1
Vielen Dank für Ihre qualifizierten Übersetzungen und die hervorragende Kundenbetreuung.
Herzlichen Dank für die sehr gute und nette Zusammenarbeit!
Ich empfinde die Zusammenarbeit mit Skrivanek als höchst angenehm. Skrivanek reagiert immer vorbildlich!
Rasch, zuverlässig, kunden- und lösungsorientiert, sehr engagiert. Wir schätzen die Zusammenarbeit mit Skrivanek sehr.
Vielen Dank für die perfekte Unterstützung & tolle Zusammenarbeit in den vergangenen Jahren! Wir freuen uns auf die kommenden Jahre… weiter so!
Super schnelle Bearbeitung und immer bestens informiert!
Alles Bestens, entsprechend erhalten Sie von uns auch viele Aufträge!
NEARLY 30 YEARS OF EXPERIENCE!
We provide professional translations that meet the highest quality standards.
100+
language combinations in portfolio
100%
of our clients would recommend us