The increasing number of virtual collaborations around the world has escalated the need for reliable translation services. Video interpreting is essential for your international conferences, training sessions and business meetings. Thanks to Internet access, our interpreters can participate in meetings happening at any time and any location.
For your convenience, we can also help you with organising virtual events and preparing essential materials. In short, we simplify international communication. If you require reliable video interpreting services, then Skrivanek is your go-to choice.
WHAT IS VIDEO INTERPRETING?
Video interpreting is the best method for providing real-time translation during online meetings. It involves the use of video call platforms, such as Skype or Zoom, where video interpreters connect with customers through video calls. This makes it easier to communicate clearly and effectively, and you do not need to worry about any potential misunderstandings due to language barriers.
Video remote interpreting offers a cost-effective solution for various businesses, including healthcare providers, law firms, retail stores, educational institutions, and more. Thanks to modern video technology, customers can connect with an interpreter from anywhere in the world and receive fast and accurate translations.
Remote interpreting is rapidly becoming a popular method for providing real-time translation services. It simplifies the process of communication between two individuals, as well as facilitating better working relationships and business transactions.
Are your clients or customers located in different parts of the world? Thanks to the use of video interpreting, this is no longer a problem.
WHAT IS VIDEO REMOTE INTERPRETING (VRI)?
Video remote interpreting (VRI) is a video call that helps people who are deaf or hard-of-hearing speak with others. Instead of having a sign language interpreter next to them, they can connect with one through the Internet. This is really practical when there are no local interpreters around, especially in rural areas, or when the interpreter is needed quickly.
ANY QUESTIONS? CONTACT US THROUGH OUR ORDER FORM
WHAT IS THE ROLE OF A VIDEO INTERPRETER?
An interpreter working remotely needs to have the same skills as one working on site, and more. He needs to be able to operate video conferencing tools and software, ensuring a clear audio and visual connection to perform their role effectively.
The interpreter also has to have a web camera and a microphone at home or at the office as well as a steady Internet connection, to be able to respond to the customers' needs.
Video interpreting service requires the interpreter to know both languages perfectly, understand the cultural differences, maintain a neutral tone, and respect the confidentiality of the conversation. In the case of meetings when a specialised vocabulary is used, they need to have experience in the industry and be aware of legal matters, medical procedures, or technical jargon.
Do you need an interpreter on demand or someone who will be available for your daily meetings? Contact us because our team has the professionals that you are looking for.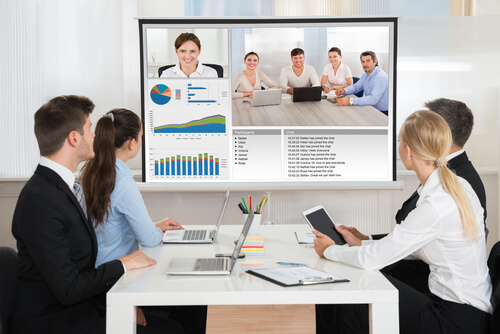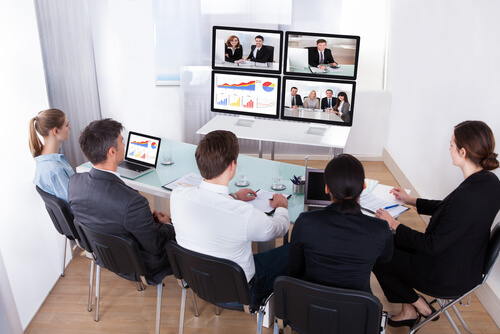 WHEN IS VIDEO INTERPRETING USED?
Are you wondering when video interpreting is useful? Let's take a look at some typical situations where this helpful tool is necessary.
Remote conferences: When attendees from different countries gather online to discuss a topic, but they do not all speak the same language.
Internet presentations: Are you launching a new product or service to an international audience? Video interpreting ensures everyone gets the message.
Business meetings: Companies with branches in different countries need to communicate effectively, despite the language differences.
Team meetings: Whether it is a quick team check-in or an important discussion, video interpreting makes communication possible.
Medical consultations: Patients seeking advice from international specialists can benefit from their expertise, despite the language barrier.
Webinars and online courses: Knowledge should not know any borders, so interpreters work hard to make it accessible to everyone.
Our interpreters are skilled and quick, providing accurate translations even in a fast-paced environment. That is why they are trusted by many reputable companies. Is your business among them?
Skrivanek's team is great at bridging communication gaps when different languages are involved. We create excellent translations, so you can chat easily and understand everything that is being said. Our aim is to guarantee a smooth connection with your foreign partners, regardless of your mutual goals.
ADVANTAGES OF VIDEO INTERPRETING ONLINE MEETINGS
With an increasing number of people working remotely due to the pandemic, online interpreting has become extremely popular. Using technology for translating saves money and hassle. No more travel expenses, no need to rent specialised equipment, or adjust schedules.
Online sessions are safe and use immersive video and audio technology to make sure everyone understands each other clearly. Businesses can now easily connect with the world. Interpreters, with their new tools, are making worldwide conversations cheaper, more reliable, and open to everyone.
VIDEO INTERPRETERS FOR YOUR ONLINE MEETING AT SKRIVANEK
Do you need help with translation during an online meeting or event? Turn to Skrivanek for premier video interpreting solutions. We understand how vital smooth digital communication is in today's fast-paced world. That is why we are excited to connect you with expert interpreters for your online sessions.
You just need to fill out our online form or contact us over the phone, so you can team up with a skilled professional, regardless of where you are. Our team covers over 100 language pairs, making global online meetings feel local.
At Skrivanek, we understand the importance of staying competitive and working seamlessly in a digital world. We are proud to offer tailored solutions for your online meetings and conferences. We can organise the whole event and provide the necessary technical support. Do your participants need additional materials, such as presentations, hand-outs, or notes? We can prepare them for you as well, so you can focus on what is most important for you.
Contact us today by email or via our contact form to learn more about what we can offer.
CASE STUDY: ONLINE INTERPRETATION OF AN INTERNAL MEETING
A leading recruitment and HR company approached us with a challenge. They required online translation for an important management meeting with staff. But there was a twist! Just 48 hours before the event, an additional language was added.
We quickly accommodated the change, demonstrating to our client that we can adapt quickly to the evolving situation. The company was already using MS Teams, so we provided an easy solution for the participants to join the meeting at the same time. To receive the translation, they were allowed to connect to Zoom as well. This did not disrupt the meeting but, instead, made it easier to follow.
The event was attended by 200 remote participants and required German, English, and Russian online translations. All video and audio were downloaded from MS Teams and uploaded to Zoom. After some audio corrections, our expert interpreters ensured that everyone stayed on the same page, making the meeting a success.
Using two platforms is a good backup plan if someone really wants to use their normal software. Even though we had to set things up quickly and did not have time to practice, everything worked out well.
WHAT IS THE DIFFERENCE BETWEEN VIDEO AND TELEPHONE INTERPRETING?
Both types of interpreting services help people who speak different languages understand each other, although they are done in different ways. Video interpreting requires a video call, allowing everyone to see each other on their screens. This helps, as seeing facial expressions and gestures provides extra information about the meaning of the words. Telephone interpreting is just a voice call, where you cannot see the other people, just hear them. It becomes useful when video is not an option or when travelling.
Whether you need video interpreting or telephone interpreting, contact us. We will connect you with the right interpreter with experience in your niche. From a language perspective, your meeting will be a success, nothing less.
WHAT OUR CUSTOMERS SAY ABOUT US
1
Vielen Dank für Ihre qualifizierten Übersetzungen und die hervorragende Kundenbetreuung.
Herzlichen Dank für die sehr gute und nette Zusammenarbeit!
Ich empfinde die Zusammenarbeit mit Skrivanek als höchst angenehm. Skrivanek reagiert immer vorbildlich!
Rasch, zuverlässig, kunden- und lösungsorientiert, sehr engagiert. Wir schätzen die Zusammenarbeit mit Skrivanek sehr.
Vielen Dank für die perfekte Unterstützung & tolle Zusammenarbeit in den vergangenen Jahren! Wir freuen uns auf die kommenden Jahre… weiter so!
Super schnelle Bearbeitung und immer bestens informiert!
Alles Bestens, entsprechend erhalten Sie von uns auch viele Aufträge!
NEARLY 30 YEARS OF EXPERIENCE!
We provide professional translations that meet the highest quality standards.
100+
language combinations in portfolio
100%
of our clients would recommend us