WITH SKRIVANEK YOU WILL MAINTAIN A CONSISTENT CORPORATE LANGUAGE.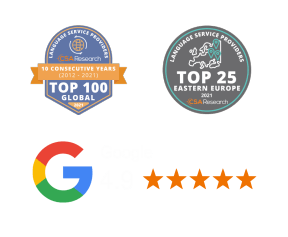 The larger the company, the greater the need for a common corporate language because not only is the 'how' of a documentation, i.e. the corporate design, decisive, but also the 'what', i.e. the common language. Terminology Management is especially important for the translation of large projects, which often involve several translators working simultaneously. Terminology Management requires an increased level of collaboration between the client and our linguists. For example, the client should specify the grammatical categories according to which a term should be recorded in the original language before it is then uploaded into the database in the appropriate languages. In addition to the technical terminology, organisation and definition of concepts, the following criteria should be coordinated in order to build up a meaningful terminology database:
In-house and company-wide standardisation.
Terminological definitions in connection with legal requirements.
Definition of monolingual and multilingual company-specific product designations (also for corporate identity maintenance).
Conversion of technical language into consumer-friendly or user-oriented language (technical documentation versus marketing texts).
Monolingual and multilingual adaptation of linguistic (and cultural) requirements for the globalization or localization of processes and documentation.
We use different approaches to build up a terminology database:
Creation of a professional glossary by a terminologist using standard software tools.
Use of a CAT tool (Computer Aided Translation Tool), with the help of which a translation memory is created step-by-step during the translation process, which can then be exported as a glossary and submitted to the client on a regular basis so that they can make changes or standardisations relating to the source language.
Enriching an existing glossary with the content of electronic dictionaries.
Integration of sources from the print and online media.
OVER 20 YEARS OF EXPERIENCE!
We provide professional translations that meet the highest quality standards.
100+
LANGUAGE COMBINATIONS IN PORTFOLIO
100%
OF OUR CLIENTS WOULD RECOMMEND US
WHAT OUR CUSTOMERS HAVE TO SAY ABOUT US
1
Vielen Dank für Ihre qualifizierten Übersetzungen und die hervorragende Kundenbetreuung.
Herzlichen Dank für die sehr gute und nette Zusammenarbeit!
Ich empfinde die Zusammenarbeit mit Skrivanek als höchst angenehm. Skrivanek reagiert immer vorbildlich!
Rasch, zuverlässig, kunden- und lösungsorientiert, sehr engagiert. Wir schätzen die Zusammenarbeit mit Skrivanek sehr.
Vielen Dank für die perfekte Unterstützung & tolle Zusammenarbeit in den vergangenen Jahren! Wir freuen uns auf die kommenden Jahre… weiter so!
Super schnelle Bearbeitung und immer bestens informiert!
Alles Bestens, entsprechend erhalten Sie von uns auch viele Aufträge!