Do you ever need to speak to a client in another language? If you have an important issue you need to solve with a foreign business partner, then interpreting over the phone helps you to communicate effectively. Our professional phone interpreters are fluent in over 100 languages, so you can be sure that your message will be delivered without confusion. We have a wide range of technological tools that let us make calls faster and easier, so we can assist you when needed.
If you are looking for reliable support for your business or private phone calls, then contact us about our language services. Our telephone interpreting is there to help in solving your everyday challenges.
WHAT IS OVER THE PHONE INTERPRETING?
The role of phone interpreting is to facilitate communication between two participants over the phone. The interpreter usually works from a different location, using headphones to listen to the conversation, and then translating it into the target language. This form of interpreting can be either consecutive, where the speaker pauses to allow the interpreter to translate, or simultaneous, where the interpreter translates while the original speaker is still speaking.
We can use phone interpreting for scheduled meetings, including:
business meetings,
telephone conferences,
medical appointments
legal consultations.
This language service is particularly useful when an on-site interpreter cannot be present, such as for brief conversations, as it fills the gap when people live in remote areas. As they do not see the speakers, everything remains confidential and helps to maintain the anonymity of all the parties involved. Moreover, it also eliminates everything related to travel time and expenses.
Tell us what you need, and we can let you know how we can achieve it. We offer telephone interpreting services, consecutive interpreting, simultaneous interpreting and more.
ROLE OF THE TELEPHONE INTERPRETER
Telephone interpreters facilitate communication between people who speak different languages. By translating the spoken words, they provide an important service to businesses, governments, and individuals. To achieve this, they must be fluent in both languages and understand the context of the situation. As they are not directly involved, they are able to act as neutral intermediaries between the two parties.
TELEPHONE INTERPRETING SKILLS
The interpreter must be able to convey the meaning of the message accurately. This can be difficult since they cannot always see the speaker, who might explain some matters with gestures or facial expressions. That is why they need to think quickly, dealing with any misunderstandings straight away by asking additional questions. This not only requires a high level of language skill, but an ability to remain calm under pressure.
TYPES OF REMOTE INTERPRETING: OPI AND VRI
There are many different types of interpreting that can be done remotely. The main two are over-the-phone interpreting (OPI) and video interpreting (VRI). In OPI, an interpreter moderates the conversation between two or more people who are not in the same place. VRI offers a similar service, but it uses video conferencing technology to connect the participants. It is more advanced and requires a stable Internet connection. Our VRI interpreters can see the speakers' body language and facial expressions, which is extremely helpful in understanding the meaning of what is being said.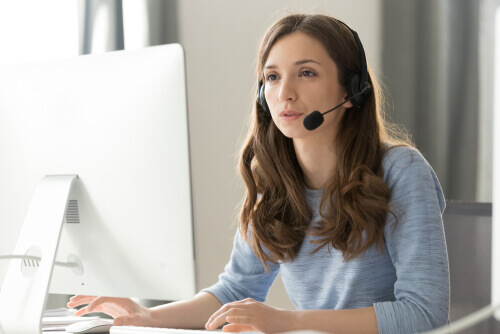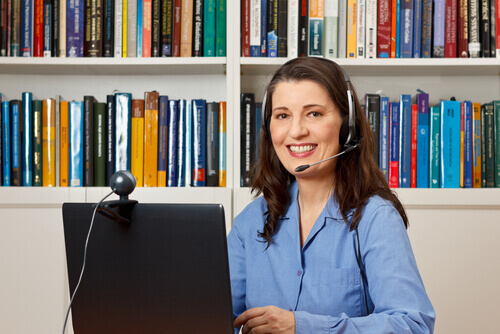 TELEPHONE OR VIDEO INTERPRETING?
Both OPI and VRI are convenient interpreting options for businesses and individuals. OPI is usually best for brief conversations or exchanging information, while VRI is better suited for business meetings or negotiations. When choosing an interpreting service, consider your specific needs. If you are unsure, then just tell us more about your meeting, so we can help you find the right solution.
ADVANTAGES AND DISADVANTAGES OF OVER-THE-PHONE INTERPRETATION
Telephone interpreting on demand is a popular choice for many people who work or live in an international environment. This service provides some distinct advantages, but at the same time it also has some disadvantages. It is worth getting to know them before you contract a phone interpreter.
ADVANTAGES
communication in real time,
can be scheduled quickly, which may be crucial in emergencies,
it is easier to accommodate time difference if one speaker is in the United States and the other in Germany, for example,
easy access from any location,
cost-effective compared to on-site interpreting.
DISADVANTAGES
a potentially unstable connection, as sound quality can affect understanding,
interpreters cannot see body language or facial expressions, losing some of the context,
conference call feels less personal than face-to-face meetings.
One of the issues when selecting an interpreter, is that it is important to consider the specific situation. If the conversation will involve a lot of industrial vocabulary, it is worth choosing someone with experience in the given field. You do not need to worry about revising their credentials, as we have already checked our team of interpreters.
TELEPHONE COMMUNICATION AROUND THE CLOCK
With Skrivanek, language barriers and language diversity do not exist. We have a professional team of experts available around the clock to help you deal with phone interpreting services, such as making appointments, conducting business meetings, and answering your customers service requests. This means that time zones and business hours are no longer a problem. Whether it is a late-night business negotiation with another company or an urgent medical consultation, we are ready to assist with our subject matter expertise. Contact us!
WHAT OUR CUSTOMERS SAY ABOUT US
1
Vielen Dank für Ihre qualifizierten Übersetzungen und die hervorragende Kundenbetreuung.
Herzlichen Dank für die sehr gute und nette Zusammenarbeit!
Ich empfinde die Zusammenarbeit mit Skrivanek als höchst angenehm. Skrivanek reagiert immer vorbildlich!
Rasch, zuverlässig, kunden- und lösungsorientiert, sehr engagiert. Wir schätzen die Zusammenarbeit mit Skrivanek sehr.
Vielen Dank für die perfekte Unterstützung & tolle Zusammenarbeit in den vergangenen Jahren! Wir freuen uns auf die kommenden Jahre… weiter so!
Super schnelle Bearbeitung und immer bestens informiert!
Alles Bestens, entsprechend erhalten Sie von uns auch viele Aufträge!
NEARLY 30 YEARS OF EXPERIENCE!
We provide professional translations that meet the highest quality standards.
100+
language combinations in portfolio
100%
of our clients would recommend us