WITH MORE THAN 25 YEARS OF EXPERIENCE IN THE TRANSLATION INDUSTRY, SKRIVANEK HAS AN EXCELLENT KNOWLEDGE OF CAT TOOLS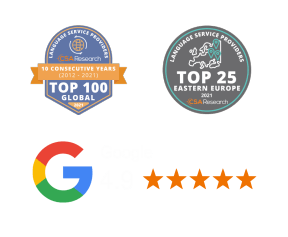 CAT tools (Computer Aided Translation) must not be confused with Machine Translation (MT). CAT tools only support the translator in his or her work. A CAT tool splits a text into individual segments and displays these segments to the translator clearly, thereby making the translation process much easier and faster. The translation is saved together with the original text as a translation unit. In this process the CAT tool functions as a translation archive, also known as Translation Memory (TM). A Translation Memory is a database that contains all segments that have already been translated in the source and target languages. As soon as the translator translates new text, the CAT tool offers translations from the stored archive that can then be accepted or rejected by the translator. Using special search functions, a CAT tool also finds segments that do not correspond 100% to the segment being searched for, but which can be quickly adapted by the translator.
We have deliberately not committed ourselves to a single CAT tool, so that we can leave the decision to our clients themselves. This also enables Skrivanek to maintain its flexibility, which is simply indispensable in view of the rapid technological changes in our industry. In general we are guided by the preferences or editorial and content management systems of our clients. Kilgray memoQ, SDL Trados Studio, STAR Transit or the across language server can be used for the current editorial systems, and this becomes especially worthwhile if the client also has a server.
Your advantages through the use of CAT tools:
Faster delivery times because automation enables the translator to produce a high-quality translation in significantly lesser time.
Consistency of your terminology: The translation memory enables the translator to reuse translation units repeatedly and thus guarantees consistent terminology even for long-term projects. The use of translation memories ensures that all translators have access to the same terminology, especially in the case of voluminous texts (e.g. when several translators are working on a job simultaneously).
Cost savings: CAT tools can be used to translate texts more cost-effectively, as we offer reasonable discounts for similar or identical text parts.
Quality improvement: CAT tools have numerous quality assurance tools, which make it easier for editors and project managers to check the accuracy and completeness of translations.
CAT tools allow all formatting, images, links, etc. to be maintained.
OVER 20 YEARS OF EXPERIENCE!
We provide professional translations that meet the highest quality standards.
100+
LANGUAGE COMBINATIONS IN PORTFOLIO
100%
OF OUR CLIENTS WOULD RECOMMEND US
WHAT OUR CUSTOMERS HAVE TO SAY ABOUT US
1
Vielen Dank für Ihre qualifizierten Übersetzungen und die hervorragende Kundenbetreuung.
Herzlichen Dank für die sehr gute und nette Zusammenarbeit!
Ich empfinde die Zusammenarbeit mit Skrivanek als höchst angenehm. Skrivanek reagiert immer vorbildlich!
Rasch, zuverlässig, kunden- und lösungsorientiert, sehr engagiert. Wir schätzen die Zusammenarbeit mit Skrivanek sehr.
Vielen Dank für die perfekte Unterstützung & tolle Zusammenarbeit in den vergangenen Jahren! Wir freuen uns auf die kommenden Jahre… weiter so!
Super schnelle Bearbeitung und immer bestens informiert!
Alles Bestens, entsprechend erhalten Sie von uns auch viele Aufträge!